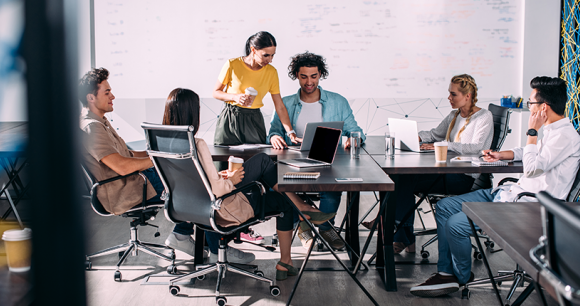 The concept of 'high-performance' is a regular topic of conversation in Agile circles. However, there seems to be some confusion about what a high-performing team is, and how 'hard' and 'soft' metrics can work together to benefit the team and organisation.
Building a successful Agile team is not a linear process. Many factors can affect a team's development, such as changes in scope or vision, new team members, and organisational restructuring.
In our quest to build high-performing Agile teams, we must ask the right questions and help teams reflect on the patterns that ultimately help them form the path to high-performance.
---
What does a high-performing Agile team look like?
Contrary to popular belief, the answer is not as simple as it would appear.
This is because different teams have different ways of defining success. They need to be careful not to measure vanity metrics such as velocity or lines of code, as these don't directly reflect the value the team delivers.
High-performing Agile teams are not just composed of individuals with the requisite skills and autonomy to carry out the work in their backlog; they're also highly motivated to deliver exceptional results. And they're relentlessly dedicated to continuous improvement, despite their existing achievements.
The concept of a high-performing team can be vague and hard to define. And it is essential to clarify what a high-performing Agile team looks like. A high-performing team consists of individuals committed to consistently delivering exceptional results over time. Regardless of the team's challenges, these individuals remain highly motivated and capable of providing outstanding results.
This type of team is also usually made up of adaptable individuals who can handle the various challenges of running a business. High-performance teams are often defined by how they perform in terms of their capabilities. However, they're also self-aware and equipped with the skills to determine where they don't perform well and where there is opportunity to improve.
---
Why do we need high-performing Agile teams?
Projects that require iterative delivery of customer and stakeholder value are well suited to Agile practices, because they facilitate effective decision-making and complex problem-solving over more traditional approaches.
Agile can also boost productivity and morale by developing new skills and improving creativity.
---
How do you build high-performing Agile teams?
While many tips on building and nurturing Agile teams that deliver outstanding results exist, three crucial elements stand out:
1. Foster an environment of collaboration and contribution
The key word in "Agile team" is "team." Although you might initially think it's "Agile," the operative word is "team."
In a traditional team, focusing on one's responsibilities can get in the way of team vision. When you are part of an Agile team, you'll have to develop a deeper understanding of the team's goals.
One of the most critical factors you'll need to consider when it comes to becoming successful is having an environment where everyone contributes to the team's success. These contributions allow everyone to feel they're connected to the overall goal.
2. Build Trust
Trust may be the most critical element in an Agile team.
It's a core part of what makes the team work, and is something that everyone should consider when it comes to building a successful team.
All members of an Agile team need to feel that they can trust their fellow team members will do the right thing when it comes to getting things done.
3. Adapt to Change quickly
If you could just lay down the tracks and know that everything would stay the same forever, it would be easier to implement Agile. Unfortunately, this isn't the way it works.
One of the most critical factors that an Agile team must consider when implementing its strategy is the ability to respond to changes. Quick adaptability allows priorities to shift so the team can stay focused on the work that they need to do. Despite the importance of organisation and order, Agile requires a lot of flexibility. This is because it relies on the ability to adapt to change.
---
The good news is there are myriad tools and add-ons that can help you improve the performance of your Agile team, no matter the stage of your journey. One of these is the "Grow Your Agile Teams with TMS" course, designed to help you accelerate the performance of your Agile team.
Click here now to enquire about the course.